Art Show & Sale:
October 7th through November 19th
"City Scenes and Country Dreams"
Featured Artists: Jennifer Liu and Lauren Forcella


"Fire in the Sky, Tucson" by Jennifer Liu

"Lupine and Oaks" by Lauren Forcella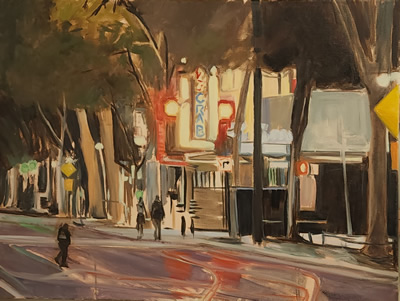 "Good Night, Good Morning, Sacramento" by Jennifer Liu

"Hidden Beach" by Lauren Forcella
In Their Own Words
Jennifer Liu: "All my life, I've had a drive to make things, to draw, to paint, and take pictures. I didn't start painting seriously in oils until my daughter's first few years in elementary school. Then I put it on hold for 20 years to focus on the practicalities of family and business.
When my husband and I moved back to Humboldt County, after being away for many years, I joined the 'Sunday Paint Out,' a group of artists who meet every Sunday to paint the landscape. This past year, I've also been exploring the urban 'landscape,' and have been inspired by the idea of community and our society. The result is this series of oil paintings that provide my personal take on the urban environment."
Lauren Forcella: " I grew up immersed in nature in Lewiston and greater Redding, including backpacking in the Trinity Alps. To say nature saved me is no exaggeration. After a career as a hydrologist, I discovered my painting talent and knew that would be my way to give back to nature. I love the freedom of Contemporary Impressionism with its loose brushwork and movement and lots of paint. My style is called 'first coup,' which means that each section is completed 'wet on wet,' on the first pass. It's the emotional directness of this style that appeals to me. Along with rich colors and thick brush strokes, I am able to translate the emotional aliveness of our beautiful, intelligent planet."
Meet and visit with the artists at the Orland Art Center Gallery.
Artists Reception: Friday, October 7th, from 3 to 7 p.m.

This exhibit runs from October 7th through November 19th.