Art Show & Sale:
August 5th through September 24th
"Being There"
Featured Artist: Stock Schlueter


"Valley view from Black Butte Lake" by Stock Schlueter

"Orland Water Tower" by Stock Schlueter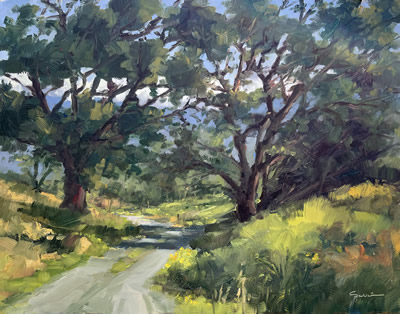 "Spring Road" by Stock Schlueter
In His Own Words
Stock Schlueter: "An artist statement changes, as it should, as the artist ages. In the beginning we may start out with stars in our eyes, seeking to get rich, famous and change the world as we carve our path across the landscape of life. Each new work a masterpiece, a ticket to the big time.
We soon learn it doesn't work quite that way. Talent is needed, of course, but it is often overrated. Desire, discipline, and persistence are the foundational blocks for building a serious body of work, which is truly the only way to get better.
I could get philosophical about the deeper meaning of art. But after many years of learning to paint, for me, it is enough to just paint. The work becomes a byproduct of a way of life. Observation and the act of painting is the statement. Creating something beautiful, and sharing it,
might just do some good"
Meet and visit with the artist at the Orland Art Center Gallery.
Artists Reception: Friday, August 5th, from 3 to 7 p.m.

This exhibit runs from August 5th through September 24th .