Art Show & Sale:
October 1st through November 20th
"High Rises and Homesteads"
Featured Artists:
Gerald Aguiar and Margaret Eldred


"Past meets Present" by Gerald Aguiar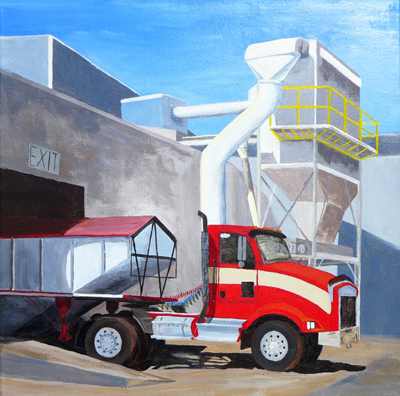 "Unloading Grain at Knight's Landing" by Margaret Eldred
In their own Words
Gerald Aguiar: "'I'm relatively new to the world of photography. I purchased my first digital camera about eleven years ago and have been hooked ever since. I'm pretty much self-taught, although I have had the privilege of attending numerous landscape photo workshops in recent years. Some of the workshop leaders include Rick Sammon, Nick Page, Juan Pons, Hudson Henry, Wolfgang Kaehler and Tim Grey. I enjoy the physical and mental challenges of capturing and processing images. My current photography focus is trying to master multi-row panoramas and luminosity masking. I hope viewers enjoy the photography presented in this exhibit as much as I enjoyed the process of bringing it to them."
Margaret Eldred: "To me, these paintings are symbolic of the dynamism of California's agriculture. In my work, I try to find a balance between realism and abstraction. I begin with a realistic photograph of the building, then I zoom in to particular shapes I want to focus on. I strive for a recognizable building, seen from a new and personal perspective that highlights its beauty and uniqueness. It often takes me five or six attempts to find the right combination of form, structure, and detail. Agriculture is an essential part of the vitality of the Sacramento Valley. I hope my viewers, farmers and art lovers alike, come away from this exhibit looking on their agricultural surroundings with new appreciation."
Meet and visit with each of the artists at the Orland Art Center Gallery
Artists Reception: Friday, October 1st, from 3 to 7 p.m.