Art Show & Sale:
April 7th through May 20th
"East and West and Somewhere Between"
Featured Artists:
Ellen Heise, K.W. Moore, Sr. and Steve Crane


"Spring Field" by Ellen Heise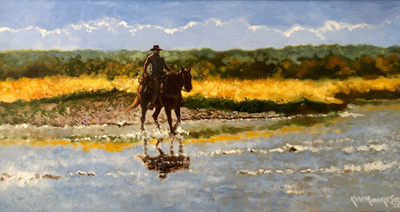 "River's Edge" by K.W. Moore, Sr.

"All Grass and No Cattle" by Steve Crane
In Their Own Words
Ellen Heise: "I am blessed to be able to catch the beauty of nature through its colors, forms, and shapes and transform the image onto the canvas. Years ago I moved from Taiwan to America. I have developed a style that combines my own tradition and Eastern culture with the Western art traditions I have learned from my current environment. Painting inside a painting has become my trademark style. It reflects both sides of my artistic training and background. I love it when people tell me they want to live inside my paintings, where they can find peace, quiet, and a relaxing moment to escape from daily life."
K.W. Moore, Sr: "My career as a commercial and fine artist spans over 50 years. Internationally known as a western artist, my style is reminiscent of the old masters. Because of my Choctaw Indian heritage, my love and respect of the Native American is evident in each piece of artwork bearing my signature. Even though I am primarily known for the work done with Native Americans, I enjoy returning to my original subject matter, the working cowboy. Growing up around horses and cattle, I learned to appreciate the men and women who still live the ways of the west."
Steve Crane: "If I began my working life again, I might become an archaeologist. Digging up bits and pieces of earlier historical times always interests me. Hiking on the Oregon High Desert, I never pass a rusty can or bottle without digging around for other artifacts I might find. Who left it there? When? I have this same curiosity when I see old barns, or abandoned houses. Who built it? What were their dreams? How do those structures dovetail with the history of this great nation and the American West? Maybe my paintings can help preserve what time and the elements will ultimately destroy."
Meet and visit with the artists at the Orland Art Center Gallery.
Artists Reception: Friday, April 7th, from 3 to 7 p.m.
This exhibit runs from April 7th through May 20th