Art Show & Sale:
October 5th through November 24th
"A Handsome Harvest"
Featured Artists:
Marilyn Walsh and Michelle Turner


"Zig Zag Window" watercolor by Marilyn Walsh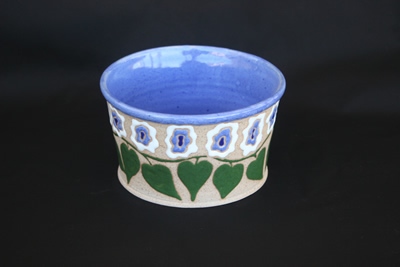 "Beautiful in Blue" ceramic cache pot by Michelle Turner
"Yellow Grader" watercolor by Marilyn Walsh
"Evening Macaw" stoneware ceramic by Michelle Turner
The rich colors of autumn are well represented by both artists in this exhibit. The walls are filled with crisp watercolors and bold, bright shapes that hold the viewers attention. The stoneware ceramics on the pedestals are impressive with delightful details and rich color that suits the season well.
Marilyn Walsh's paintings cover a range that includes delicate florals, bold and brassy renditions of farm equipment, charming country marketplaces and whimsical glimpses into windows along busy city streets. A native of Missouri, Marilyn spent her early professional years working with deaf and hard of hearing students as a Special Education teacher, first in St. Louis, then in Florida, and finally in California. Her love of art was always there, but it wasn't until retirement that she was able to nurture it with classes and workshops, learning something new from each experience. Her favorite subjects are the ordinary things found in everyday life, and she loves the challenge of the watercolor technique.
Michelle Turner's elegant tall stoneware ceramic vases are intricately decorated, offering interesting contrasts to her delightful serving dishes and graceful bowls, each piece glowing with color. Though California born, Michelle lived in many other states across the country. In addition to being a housewife and mother, she held a variety of jobs. In her thirties, while attending Agriculture classes at Butte College, she was drawn to the ceramics area and switched her studies to drawing and design, and ultimately to ceramics. She enjoys the physical effort involved in creating three dimensional art. Michelle's favorite themes are flora and fauna and she's inspired by Japanese pottery, especially after a visit to Japan's many museums.
Meet and visit with both of these talented artists at the Orland Art Gallery Artists Reception: Friday, October 5th, from 3 to 7 p.m.