Art Show & Sale:
August 2nd through September 21st
"Tenth Annual Group Show"
Featured Artists:
Twenty nine artists from all over California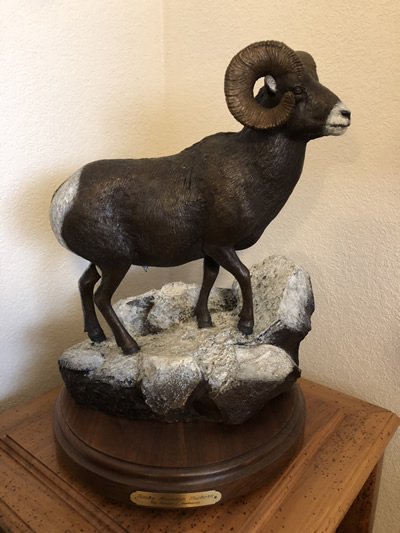 "Rocky Mountain Bighorn" by Jessie Rodriguez
"Stony Creek" by Beth Camper
"White Gold" by Steven Elliott
In their own Words
There are simply too many talented artists in this exhibit to offer quotes from each of them. They come from many different parts of our beautiful state, as well as from our local area. A visit to the Gallery during the reception will give viewers a great opportunity to speak directly to each one, and hear their stories, in their own words.
The following is an alphabetical list of the artists participating in this year's exhibit.
Gerald Aguiar, Patricia Bambauer, Beth Bjorklund, Karma Boyer, Michael Buelna,Beth Camper, Michelle Camy, Annette Carroll, Cheryl Caldwell, Judy Clever, Steve Crane, Steven Elliott, Pat Everett, Gerald Farren, Holly Mojica, Alyson Mucci, Dianne Niger, Bruce Perkin, Ronald Pritchard, Kristin Revolinsky, Richard Robinson, Jessie Rodriguez, Sue Shuey, Jon Shult, Burns Smock, Lorrie VanLeuven, Pat Vought, Marilyn Walsh, and Mike Williams.
The images on this page are just a small sample of the intriguing artwork produced by this talented group. The entire show is truly a smorgasbord of subject and style.
Meet and visit with each of them at the Orland Art Gallery Artists Reception: Friday, August 2nd, from 3 to 7 p.m.
"Stalking Egret" by Bruce Perkin