Art Show & Sale:
December 1st through January 20th
"Silk Sensations"
Featured artist: Tanya Mead Mullen

"Jewel Box Butterfly" silk with gold leaf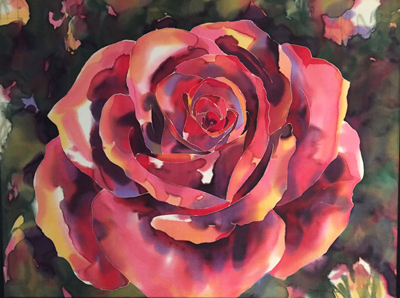 "Singing Rose" painting on silk


"Resting Horse" high fire ceramic
Fine artist Tanya Mead Mullen can't remember any time in her life when she ever wanted to be anything else. Born into a family of artists, she absorbed a love of art from her artist mother and her father, a Russian immigrant, who opened his own art gallery in San Francisco. By the time Tanya was nineteen, she was working in that very same gallery, having already earned a scholarship to Oakland Arts & Crafts while still in high school.
She earned an AA degree from Diablo Valley College, and in 1977, earned a BA in Fine Arts from California State University, Chico. She loved the town of Chico, and stayed there, fell in love, married and had two children.
Her early artistic focus was with watercolors, and she became one of the members of the College Artisans. Using her early experience in gallery work, she was instrumental in helping the group organize and present their work for many local exhibits. In the late eighties, Tanya shifted her focus to ceramics, resulting in her work being represented in ten different galleries throughout the country, and also in the Steinhart Aquarium in San Francisco.
In the nineties, she was ready to explore yet another new medium. The technique of dyes on silk caught her attention and she found it to be a good balance between the pliable nature of creating in ceramics and the soft-edged look of watercolors. The beautiful results are on display in our December / January exhibit. A visit to the Gallery will enable viewers to see exactly why this exhibit is titled "Silk Sensations."
MMeet and visit with Tanya Mead Mullen at the Orland Art Center Gallery Artists Reception: Friday, December 1st, from 3 to 7 p.m.