Art Show & Sale:
December 4th through December 30th
"The Art of Sacred Traditions"
Featured Artists: Steven Elliott and Wayne Wilson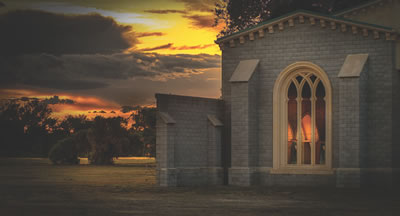 "Passing Storm" photograph by Wayne Wilson
"Attendance" photograph by Steven Elliott

"A Perfect Morning" photograph by Wayne Wilson
"Golden Symphony" photograph by Steven Elliott
The photographs in this show are portraits of a work in progress. NorthState photographers, Wayne Wilson and Steven Elliott, are fully aware that the images offer only a brief snapshot of the full scope of the Sacred Stones project - either in its native soil of Spain at Santa Maria de Ovila or its new home at the Abbey of Our Lady of New Clairvaux in Vina, California.

Like any visitor, pilgrim, or monk who steps into the ancient, transplanted, and resurrected Chapter House, we are humbled and, at the same time, inspired by the invitation to participate in something that so obviously transcends our own brief lives and meager individual efforts. In "A People's History of Christianity" Diana Butler Bass writes, "At its best, (sacred architecture) carries life-giving wisdom beyond our immediate experience and limited individual memory." The Chapter House is a structure with a rich history and meaningful tradition that stretches from the dim past and into the unimaginable future. But, when we are there, when we are present, we are the present. We are reminded that we are not alone, and that we too have a contribution to make. We join hands across space and time with those with whom we share this human and sacred enterprise.

In keeping with the spirit of the Sacred Stones, we have approached this show as a project together, and not as a showcase for our individual talents. It is our desire to step out of the way and let the Sacred Stones speak for themselves. Because of its inherently literal nature, the proposition of photography is more to record and to reveal than to express. When we frame a photograph, we put the viewer in our place, hoping to facilitate a shared experience. If not with same eyes, at least from the same perspective, we view a common subject and invite each one to process and develop the image there in your own soul.

Margaret Visser writes that "A church stands in total opposition to the narrowing and flattening of human experience, the deviation into the trivial... A church is there to remind you, to teach you to pay attention, and to awaken...your soul." In this way, we hope these images serve you like the Sacred Stones themselves.
Come to the Orland Art Center Gallery at 732 Fourth Street, in downtown Orland, California.

Gallery hours: 1 to 6 p.m. Tuesdays through Saturdays during the duration of the show.
Go to the Artists' page, for additional information on the show and the artists.
For information on Orland's latest Public Art Project, the beautiful lifesize bronze sculpture, go to this link.